2020 marks SBS – Singa Bearings Solutions' (SBS) 15 year track record of customising design and manufacturing bearings for large complex market sector environments including hydropower, marine/offshore, mining, agriculture, construction and steel plants to help our customers master current business challenges and shape future business models.
"We understand that every customer has specific needs to make the difference in their markets, so we provide them with the products, technical insights and solutions to help them to attain higher efficiencies and outcomes," Daniel Hallauer, Founder and CEO, "Once customers have established the general equipment design and operational requirements, SBS comes in to develop a tailor-made bearing solution which can put the customer in a competitive edge, surpassing their competitors, enjoying both costs and performance benefits."
SBS's most recent project milestone, headed by Technical Manager, Christian Hocker, features the successful delivery of 20 tonnes of customized spherical plain bearings and components for a hydro-mechanical installation.
SBS was awarded this project in a tender which featured three other reputable vendors based on its proven track record, technical competence, quality assurance, fair pricing and project management skills.
Customer First Approach
In the customer's initial work statement, procurement of all related bearings was to be made separately. SBS saw incremental benefits for the customer to be provided spherical bearings, bearing housings and shafts as a bundle:
The shafts would represent a rotary mating surface for the bearing. Made of high-grade stainless-steel material, the shafts go through the forging and hardening process that would further enhance material strength and hardness.
The bearing housings are a bit simpler in its function and are made from forged and annealed Carbon steel.
*This image is for reference purposes and is not a drawing from SBS
The SBS product that led the difference for this project was the LUB-MET® spherical plain bearings. By installing this into the main hinge points of the radial gate, it allowed for a controlled and effective articulation of this large and heavy steel structure for several decades.
About LUB-MET® Spherical Plain Bearing:

The bearing outer ring is made from a high-strength stainless steel in a forged and hardened condition, while its inner sphere features a high-strength brass alloy, furnished with solid lubricant plugs.
The unique combination of both these materials promotes resistance against corrosion and eliminates the need for grease lubrication.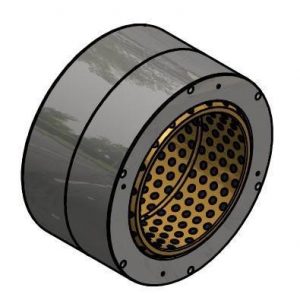 Shaping the Customer's Implementation Journey
For this project, the bearings were specially designed with an extra wide inner and outer ring to allow it to carry higher loads for a comparable small inner (or shaft) diameter.
Featuring an inner diameter of 300mm and 400mm, with a mentionable weight of 330kg and 480kg respectively, these bearings are designed to provide for future requirements. This provision is especially useful since these bearings would not be seen again for the next 50 years following its installation.
To further determine viability, a factory acceptance test was carried out at the SBS premises in the presence of representatives from the client. Here, the bearings were pre-assembled with the shafts and tested for its fitting and functionality.
Full assembly of all 3 components: Housing, Bearing and Shaft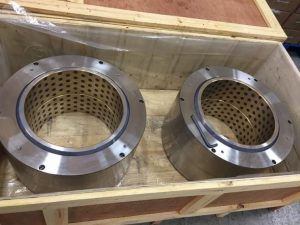 Delivering Project Success 
The phenomenal outcome of this project has since garnered widespread industry recognition with:
8pcs. GE400 LUB-MET Spherical Plain Bearings (480 kg/pc.)
8pcs. Bearing housings made from forged carbon steel (850 kg/pc.)
8pcs. Stainless steel pins, forged and heat treated (740 kg/pc.)
3pcs. GE300 LUB-MET Spherical Plain Bearings (330 kg/pc.)
2pcs. Bearing housings made from forged carbon steel (580 kg/pc.)
2pcs. Stainless steel pins, forged and heat treated. (370 kg/pc.)
"Our end-to-end suite of products and services enables our customers to operate more productively and pinpoint high-value areas for process improvements," adds Hallauer, "We are constantly coming with ideas to help our customers new ways of working to address today's challenges and tomorrow's opportunities.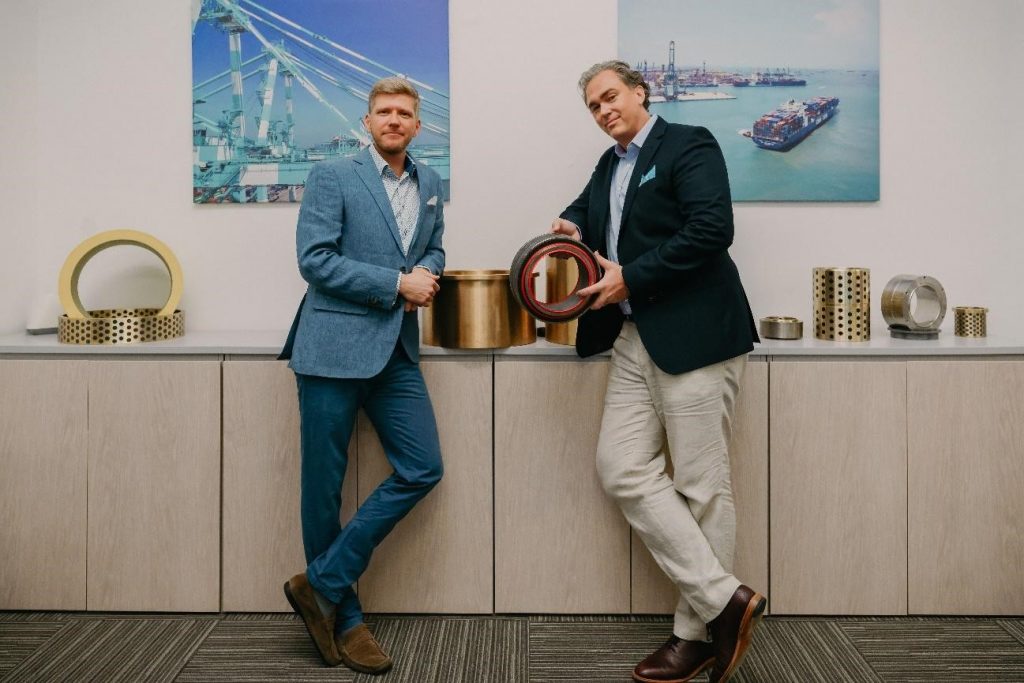 Looking for a customised solution for your project, talk to us today. We look forward to hearing from you.