Bearings can fail prematurely and unexpectedly even with the best intentions during the planning and maintenance stages. The selection of bearings for each application is made in conjunction with the manufacturer's designed life expectancy. However, for a wide variety of reasons, few bearings reach their full designed life expectancy.
After more than a decade of on-site diagnosis of the difficulties affecting a wide spectrum of bearings, the SBS – Singa Bearings Solutions (SBS) team has found the prevalent causes being inadequate/improper lubrication, contamination, overload, and improper handling and installation.
Restoration of operating efficiencies and rectifying such unexpected bearing failures are costly requiring companies to pay for repairing and replacing of both the bearing and adjacent components such as housings and shafts which could sustain damage. Furthermore, bearing failures could also reduce a plant's operating efficiency, increase downtime and increase the cost of operations.
At SBS, we provide engineering consultative services and technical expertise that support our customers in their pursuit of improving their business for their customers, workforce and stakeholders.
How the Technical Consultancy division of SBS can help:
Provide an unbiased and independent recommendation to optimise the health of your machinery and bearings
Partnering with your teams to enable a faster project delivery
Working with you to identify requirements, design and develop your bespoke bearings solution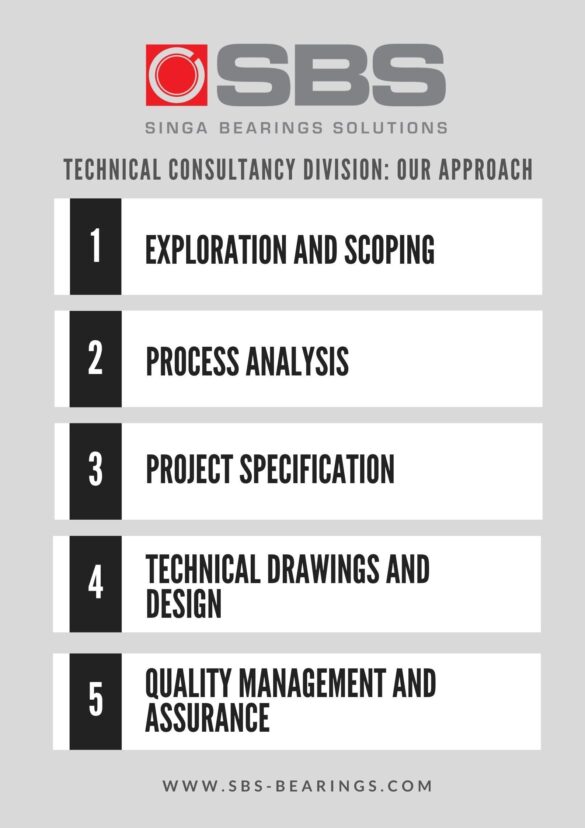 What happens at the Technical Consultancy division of SBS:
Our approach
Phase 1: Exploration and scoping
We work with you to understand your business needs, and understand the scope of our deliverables to you.
Phase 2: Process Analysis
Conducting process analysis allows us to gain an understanding of your plant and equipment processes. Through various techniques such as observation and documentation review, we work with you and your team(s) to ascertain your requirements and make recommendations for process improvement to deliver value to your business.
Phase 3: Project specification
So that we can build an application that addresses your needs, we produce a project specification describing the functionality and purpose of our deliverable to you. This way you are assured that we fully understand your requirements at the onset, and at completion, you are satisfied that we deliver everything that you need.
Phase 4: Technical drawings and design
SBS offers technical drawings and design services that take into consideration end to end usability design so you can be assured that the bearing designs are customised according to your requirements.
Phase 5: Quality management and assurance
We fully integrate quality assurance processes into our workflow, ensuring that the bearings we deliver to you are rigorously tested and delivered with high reliability, standards and practices.
The health of your bearings is critical to the health of your equipment and processes. For any bearing used in rotating machinery, applying best maintenance practices and using the correct enabling tools to identify and correct imminent failures can help contribute to maximum bearing service life.
Doing so will ensure smooth-sailing for your facility and prevent unplanned downtime, lost revenue, and decreased operating efficiency due to bearing failure.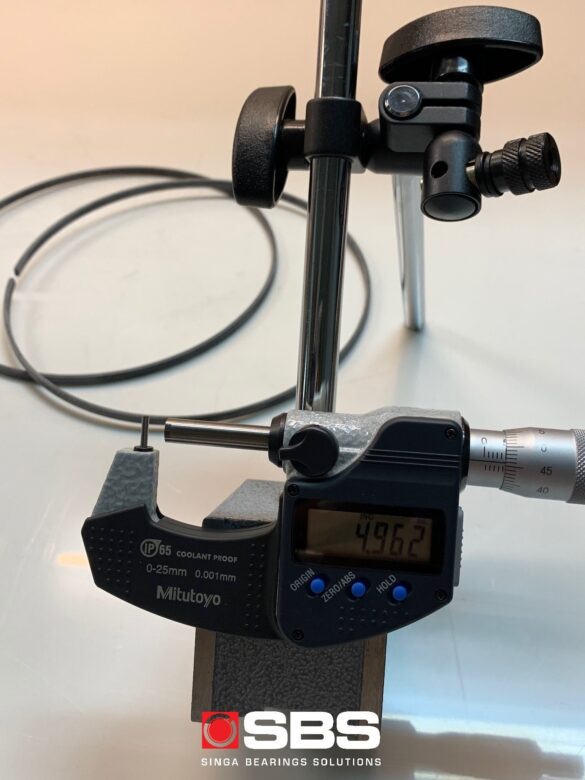 SBS Service Promise
At SBS, our focus is about how we can continuously improve productivity and efficiency for our customers. Our engineering, manufacturing, sales, marketing and aftersales are all woven together, to provide flexible and scalable solutions that help manage across all levels of product complexity.
If you are looking for customized solutions, innovative products and exceptional service, please call us at +65 6316 3850 or email [email protected] today for a no-obligation discussion.